China GNPower and Central Enterprise Poverty Alleviation Fund to Create a Clean Energy Industry Poverty Alleviation Platform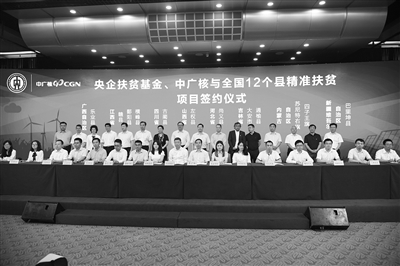 China General Nuclear Power Group (hereinafter referred to as "China Guangdong Nuclear Power") and the Central Enterprise Poverty Area Industrial Investment Fund (hereinafter referred to as "Central Enterprise Poverty Alleviation Fund") recently signed a project investment cooperation agreement, and the two sides will work together to build a poverty alleviation platform for the clean energy industry, at 12 national level. Poverty counties built 17 clean energy projects to help the poor to get rid of poverty.
According to reports, CGNPC will invest about 1.63 billion yuan, and the central enterprise poverty alleviation fund will invest 700 million yuan to jointly establish CGNPC Chuangyi Wind Power (Beijing) Co., Ltd. in accordance with the 7:3 share ratio to build a total investment of 9.894 billion yuan and total installed capacity. 160.83 million kilowatts of poverty alleviation platform for the clean energy industry.
The two sides plan to build 17 wind power and photovoltaic power generation projects in 12 state-level poverty-stricken counties in eight provinces including Guangxi and Sichuan. Among them, there are 6 counties located in the concentrated contiguous area, two counties are located in the former Central Soviet Area, and one county is located in the old revolutionary area of ​​the Zuojiang River.
As a concrete measure to help the poor to get rid of poverty, these 17 projects will directly and indirectly provide more than 3,000 jobs in the construction period, increase income by about 30 million yuan, newly rebuilt roads by 270 kilometers, and build new transmission lines of 190 kilometers. After the completion of the project, more than 200 jobs will be provided for the local filed card population, and 7 million yuan will be donated to the local area each year. Targeted support and construction of the disabled households with partial disability, disability, and other non-workability, during the investment period, 11885 people can be helped.
In addition, wind power generation and photovoltaic power generation are all environmentally friendly and clean energy. The annual environmental benefits of the project are equivalent to saving 1.07 million tons of standard coal and reducing 1.76 million tons of carbon dioxide emissions, helping to fight the blue water and blue sky.
Shi Bing, deputy general manager of CGNPC, said that CGNPC and the central government poverty alleviation fund have innovated poverty alleviation models to jointly build a poverty alleviation platform for the clean energy industry, and invest in clean energy industries in several national poverty-stricken counties. And through the targeted donation, the accurate implementation of the establishment of the card, the lack of working capacity of poor households out of poverty. At the same time, through the increase of local fiscal revenue through taxation, industry to promote agricultural labor to promote local economic development; through project construction to promote the improvement of local roads, power grids and other infrastructure, to play a synergistic role of central enterprises and central enterprises poverty alleviation funds, reflecting the large-scale industry of coordinated poverty alleviation, The project, large impact, wide range, strong driving, and long-lasting characteristics.
It is reported that the fund will closely focus on the country's strategy of poverty alleviation, mainly investing in the development and utilization of resources in poverty-stricken areas, the construction of industrial parks, and the development of new urbanization. It will give priority to supporting projects that attract more employment, have strong driving force, and have a good effect on poverty alleviation. Provinces and regions with high population and high incidence of poverty, old revolutionary areas, ethnic minority areas and frontier areas.